Changed Traffic Patterns!!
Published: October 18, 2014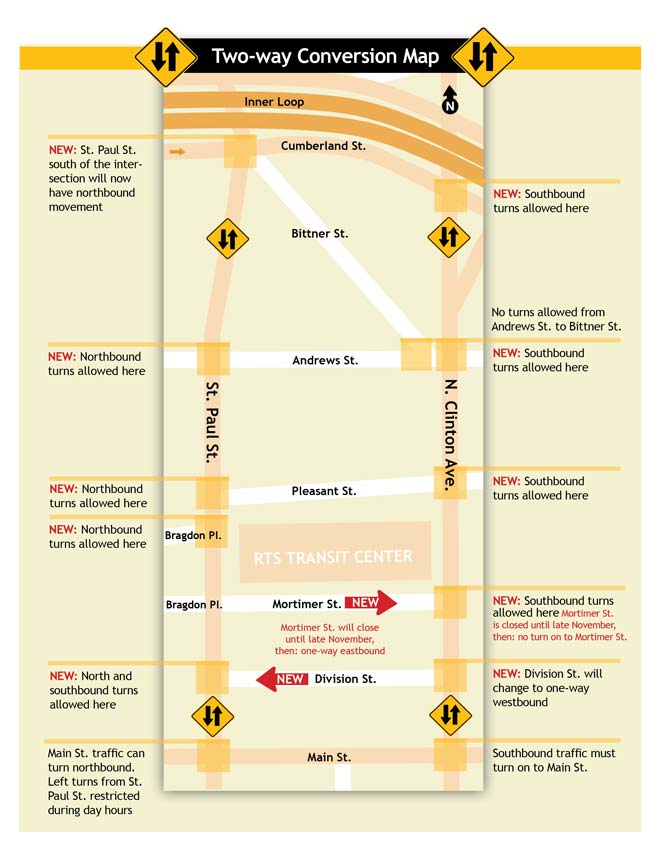 As of October 17th, new traffic patterns have taken effect in downtown Rochester. The reason, as I understand it, is to accommodate the new downtown bussing changes.
St. Paul and Clinton ave's are now two-way streets, and there are new lights and lane lines to accommodate that. Bittner St. remains a two-way street (and it's been repaved and painted!) but turns onto Bittner from Andrews St. are prohibited. Access to Bittner from the Inner Loop remains quite simple and straightforward.
Here is a link to the City's official page regarding the changes. Take a look there if you'd like more information. Two Way Conversion
Our parking remains the same, and our guys will be there to help you find a spot and keep an eye on things during the show. We expect that the effect for us is that it will reduce the amount of incidental vehicle traffic in front of the Church.
All of this is already in place, and is working quite nicely, thank you very much!
It's a good change for OMP and Gilbert and Sullivan lovers!
See you at the show,
Al Young
President
« View All News