OMP Revue Group is doing a FRINGE show!
Published: July 17, 2018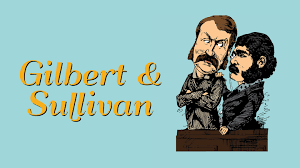 Sit back and enjoy the witty lyrics and tuneful melodies of Gilbert and Sullivan performed by more than a dozen members of the
Off-Monroe Players Revue Group!
Listen or discover songs, sung with piano accompaniment, from HMS Pinafore, Pirates of Penzance, the Mikado and other favorites. You will be transported back to Victorian England and learn how Gilbert and Sullivan were the very model of modern musical composers!
Dates:
Wed Sept 12th - 7pm
and
Saturday Sept 15th - 6:30pm
cost $5
to purchase your tickets - please go to the Fringe website
https://rochesterfringe.com/tickets-and-shows/off-monroe-players-gilbert-and-sullivan-revue
or
tickets can be purchased at the door at MUCCC (142 Atlantic Ave 14607)
Hope to see you there!
« View All News