Arthur Sullivan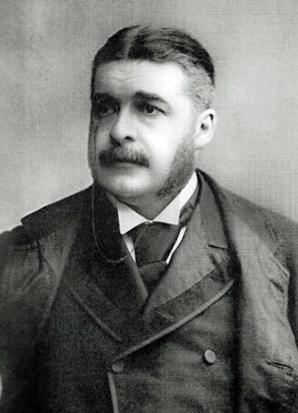 Sir Arthur Seymour Sullivan MVO (13 May 1842 – 22 November 1900) was an English composer. He is best known for his series of 14 operatic collaborations with the dramatist W. S. Gilbert, including such enduring works as H.M.S. Pinafore, The Pirates of Penzance and The Mikado. Sullivan composed 23 operas, 13 major orchestral works, eight choral works and oratorios, two ballets, incidental music to several plays, and numerous hymns and other church pieces, songs, and piano and chamber pieces. The best known of his hymns and songs include "Onward Christian Soldiers" and "The Lost Chord".
The son of a military bandmaster, Sullivan composed his first anthem at age eight. He was selected as soloist in the boys' choir of the Chapel Royal. The Reverend Thomas Helmore, the choirmaster, encouraged Sullivan and arranged for the publication and performance of his early compositions. In 1856, the Royal Academy of Music awarded the first Mendelssohn Scholarship to the 14-year-old Sullivan, allowing him to study first at the Academy and then in Germany, at the Leipzig Conservatoire. His graduation piece was a suite of incidental music to Shakespeare's The Tempest. When it was performed in London in 1862, it was an immediate sensation. Sullivan began his composing career with a series of ambitious works, interspersed with hymns, parlour ballads and other light pieces. Among his best received early pieces were a ballet, L'Île Enchantée (1864), and his Irish Symphony, Cello Concerto and Overture in C (In Memoriam) (all in 1866). From 1861 to 1872, he supplemented his income by working as a church organist and as a music teacher.
In 1866, Sullivan composed his first one-act comic opera, Cox and Box, which is still widely performed. His most successful orchestral work, the Overture di Ballo, premiered in 1870, and the next year he published a song cycle, among other works. Sullivan's talent and native charm earned him many friends in musical and social circles, including Queen Victoria's son Alfred, Duke of Edinburgh. Also in 1871, Sullivan wrote his first opera with W. S. Gilbert, Thespis. The two then went their separate ways, and Sullivan produced his Festival Te Deum (1872), an oratorio, The Light of the World (1873), and other pieces, including incidental music for West End productions of several Shakespeare plays. He also had conducting and academic appointments. In 1875, however, producer Richard D'Oyly Carte reunited Gilbert and Sullivan to create a one-act piece, Trial by Jury, which became a surprise hit. Their 1878 opera H.M.S. Pinafore became an international sensation, as did The Pirates of Penzance (1879) and Patience (1881).
Composer for…