Auditions for 2024 The Grand Duke!
Published: November 19, 2023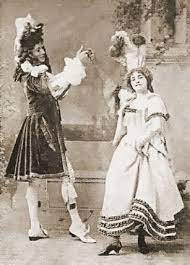 AUDITION ANNOUNCEMENT!
(more details to follow in December 2023)
We will be holding auditions Jan 22 and 23 2024 for our Spring 2024 production of The Grand Duke by W. S. Gilbert and Arthur Sullivan.
Director - Amanda Lobaugh
Musical Director - Emily Mills
AUDITION INFORMATION: Monday and Tuesday, January 22nd and 23rd from 6:30pm - 8:00pm.
Auditions are for Principal roles only, chorus may sign up at auditions or simply attend the first rehearsal on Jan 29th at 6:30pm.
Auditions, rehearsals and performances will be held at Downtown United Presbyterian Church, 121 Fitzhugh St. N, Rochester, NY, 14614.
We welcome cast members ages 14+, but cast members between the ages of 14 and 18 must have a parent/guardian/member of the cast present at all rehearsals.
We ask that everyone be COVID vaccinated.
Character descriptions, vocal ranges, audition sheets, scores, additional information will be added in December.
REHEARSALS: Rehearsals will be Mondays, Tuesdays, and Fridays from 6:30-8:30pm
PERFORMANCES: May 10 ,11,17, 18th at 7:30PM, May 12 & 19th at 2:00PM.
If you have any questions, please email amandalobaugh@aol.com
We hope to see you soon! Please feel free to share this post with your network!
« View All News