Winter 2024: Creatures of Impulse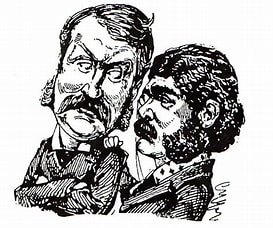 Performed as part of Winter Plays 2024.
Performances
Feb. 29, 2024, 7 p.m.
March 1, 2024, 7 p.m.
March 2, 2024, 7 p.m.
March 3, 2024, 2 p.m.
All performances held at Downtown United Presbyterian Church (DPC).
Synopsis
A fairy disguised as a disagreeable old woman comes to stay at an inn. When the other characters try to induce her to go on her way, she casts spells over them causing them to behave in ways contrary to their true characters: the shy girl kisses everyone, the coward becomes courageous, the miser generous and so on.
Originally a musical, the score originally consisted of six songs, but when Gilbert published the script of the play in Original Plays, Fourth Series [1911] three had been cut. The music was never published and is now apparently lost.
Characters
Sergeant Klooque
Boomblehardt, a Miser
Peter, a Young Farmer
Jacques, a Villager
Martha, Landlady of the Three Pigeons
Pipette, her Niece
A Strange Old Lady
1st Villager
2nd Villager
3rd Villager

Director: Albert Young Jr.
---
Cast
1st Villager

2nd Villager

3rd Villager

Boomblehardt

Peter

Pipette

Martha

Sergeant Klooque

A Strange Old Lady

Sergeant Klooque
---
Crew
Set Designers

Lighting Designer