Hot Mikado
Crazy (but familiar) G&S action in the swinging Town of Titipu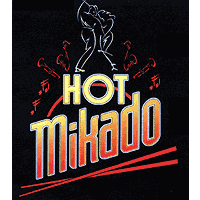 Book by David H. Bell, W. S. Gilbert
Music by Arthur Sullivan, Rob Bowman
Production Runs
HOT MIKADO is a 1940's swing-time, gospel-infused version of Gilbert and Sullivan's most popular operetta The Mikado. It's the story of wandering musician Nanki-Poo and his quest to marry the dizzy Yum-Yum, a doo-wah singer. Nanki-Poo comes to Titipu not only for sweet Yum-Yum but also to escape marrying a fearsome — and very unattractive — torch singer. His troubles are far from over as poor Nanki-Poo finds that Yum-Yum must marry the Lord High Executioner and that he has to dodge the executioner's blade. When the Mikado (ruler of all Japan and remarkable tap dancer) comes on the scene, the stakes get even higher.
East meets West head-on in this hilarious 1940s-style updating of the perennial Gilbert and Sullivan classic. With the music transmuted into blues, Cab Calloway swing, hot gospel, scorching torch songs and 'Three Little Maids' turned into an Andrew Sisters' show-stopper, this zoot-suited, tap-dancing colorful show is certain to provide the ideal evening out for the whole family. A cross-cultural musical, about a mythical Japan (which is really England), with the Japanese characters singing in swing time to lyrics about current politics — "For fans of G&S, jazz, tap or jitterbug, HOT MIKADO is a mega-audience-pleaser!"
The Mikado was the biggest musical comedy sensation of the Victorian era. Gilbert set his opera in Imperial Japan, supposedly because he was inspired by a Japanese sword that fell off his wall. But The Mikado, though set in Japan and filled with Japanese references, names and glorious costumes, was really about English morality and satirized the British love of propriety and legality.
The success of the show was something many writers and producers tried to cash in on during the 1920s in America. There were three separate productions called The Cool Mikado, The Jazz Mikado and The Swing Mikado. They all showed very little regard for the original authors and were financially disastrous.
In the 1930s, producer Mike Todd created THE HOT MIKADO, taking the G&S musical, retaining its plot, but changing the lyrics to reflect the times and jazzing up the music, adding swing rhythms, blues numbers and an all-black cast headed by Bill "Bojangles" Robinson. The show was still set in Japan, and still featured Gilbert's British satire, plus plenty of jokes about the political situation in 1939 Depression-era New York. The music was still Sullivan's, but with a very different beat. It was immediately very successful, and was produced at the 1939-1940 New York World's Fair.
Todd got his idea from The Swing Mikado (another all-black adaptation), which the Federal Theatre Project had created in Chicago. When Todd couldn't buy The Swing Mikado, he opened THE HOT MIKADO in New York. The "Swing" version soon followed, and they were different enough to run across the street from each on Broadway. THE HOT MIKADO was jazzier than its rival and had a full-voiced, star-studded cast to back up its sass.
In 1986, Alliance Theatre Company director David H. Bell wanted to revive THE HOT MIKADO but discovered that what little remained of the original — a few recordings and incomplete scores — were mostly just Sullivan's music performed by an all-black cast. So he and arranger/musical director Rob Bowman created their own adaptation — HOT MIKADO, which premiered at Ford's Theatre in Washington, D.C., and then went on to become a huge hit in London's West End.