Fall 2017: The Mikado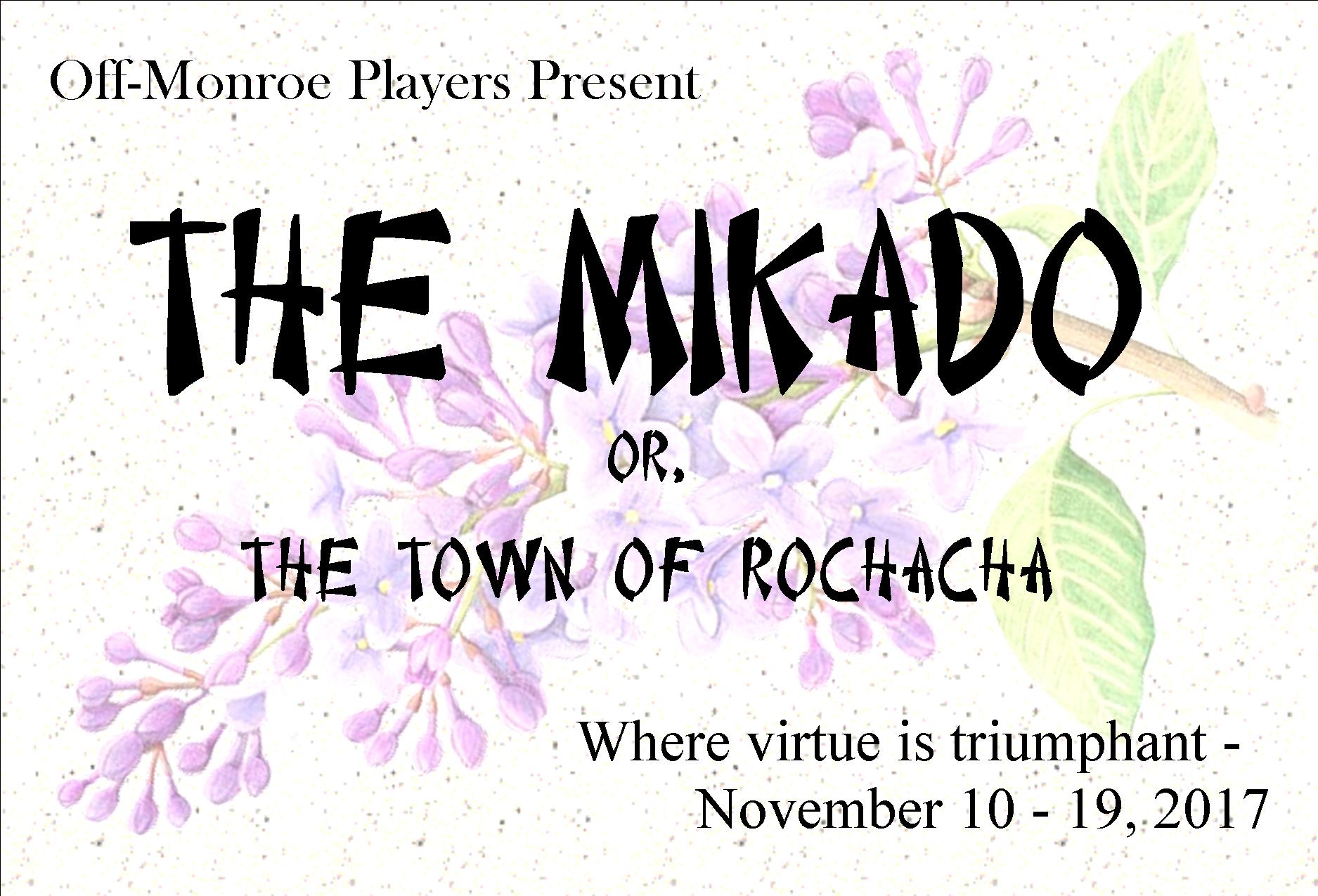 Performances
Nov. 10, 2017, 8 p.m.
Nov. 11, 2017, 8 p.m.
Nov. 12, 2017, 2 p.m.
Nov. 17, 2017, 8 p.m.
Nov. 18, 2017, 8 p.m.
Nov. 19, 2017, 2 p.m.
All performances held at Salem United Church of Christ.
Notes
In this special Rochester-themed production of one of Gilbert and Sullivan's best known works, director Wayne Vander Byl has set the action in "Thisland," and subtitled it: The Town of Rochacha.
In modern dress, against a backdrop of lilacs and the Rochester skyline, the classic tale of proud officials, many-hatted bureaucrats, and love (sometimes misplaced or unwanted!) is carried out. Nanki-Poo, son of the Mikado but disguised as a wandering minstrel, is on the run to escape the clutches of Katisha, a truly frightening "daughter-in-law elect." Nanki-Poo loves Yum-Yum, but Ko-Ko, Yum-Yum's guardian, wants to marry her himself. Unfortunately, first he may have to cut his own head off.
The myriad twists and turns continue in true Gilbertian fashion up to a final crisis, overseen by the mighty Mikado. Will Nanki-Poo and Yum-Yum, now married, be allowed to live? What about the three conspirators, charged with "compassing the death of the Heir Apparent"? Not to mention calming the rage of the fearsome Katisha! It's all up to Ko-Ko to somehow resolve this exceedingly tangled knot.

Director: Wayne Vander Byl
Music Director: Alex Kuczynski
Producers: Schuyler Kelley, Amanda Lobaugh, Albert Young Jr.
---
Cast
Yum-Yum

The Mikado of Japan

Nanki-Poo

Ko-Ko

Pooh-Bah (Lord High Everything Else)

Pish-Tush

Pitti-Sing

Katisha

Peep-Bo
Chorus
Terry Benedict, Liz Burke, Barbara A. Dick, Don Kelley, Marshall Kelley, Tamara Kelley, Jordu Kelly-Sutliff, Rebecca Kingman, Larry Kiser, Sean Maher, Andrea Olivier, Charles Palella, David Raymond, Richard Riggs, Laurel Schneiderman, Martin Schneiderman, Mamie Smith, Cady Walker, Bob Weeks, Clara Weinert, Velta Zadins
Orchestra
Bass

Clarinet

Flute

Keyboard

Oboe

Percussion

Trumpet
---
Crew
Set Designer

Set Construction

Costume Manager

Costume Construction

Lighting Designer