Spring 1990: The Wicked Way (Children's Theatre)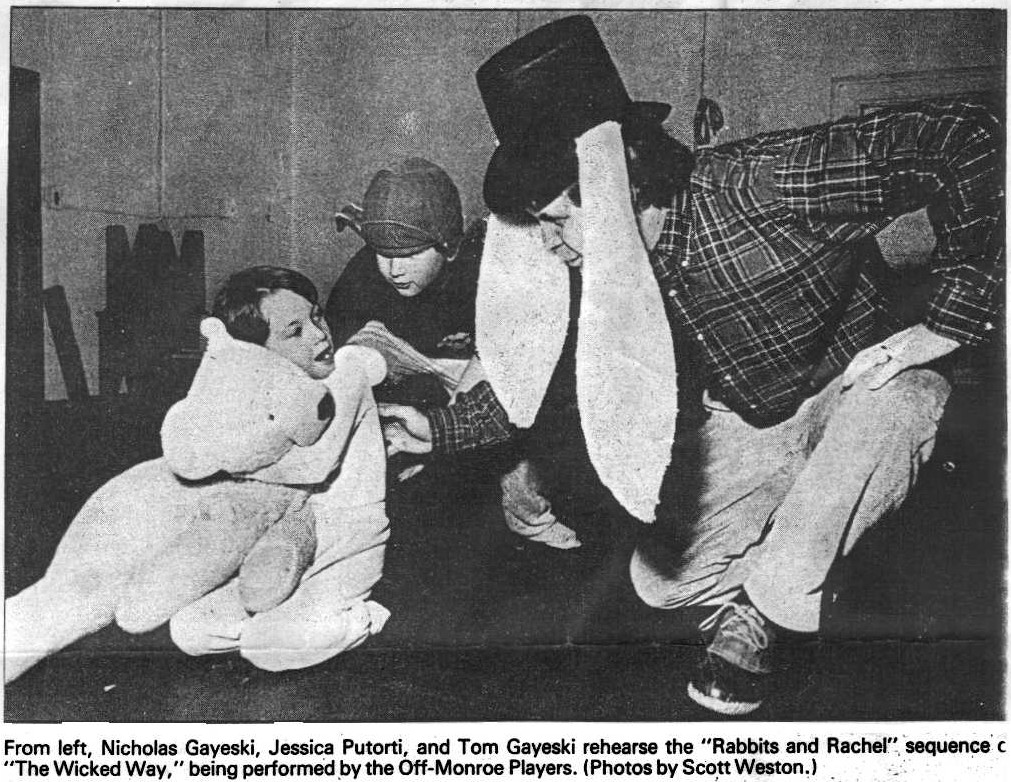 Notes
Productions, unlike fairy tales, are not magic. They are the result of lots of work and dedication from kids, parents, and friends. I'd like to especially thank a very magical lady for making this production possible — producer Maureen Barry. Her commitment to children's theatre and her support makes everything worthwhile.
Special thanks also to the cast & parents of The Wicked Way. What a talented bunch of critters!
And my most special, special thanks to the four most important men in my life — for their patience with a director's grumpy moods & March obsession: my sons & co-authors Matt, Joey, and Ben and my husband and wiring-fixer, Don.

Director: Kathy Palokoff
Music Director: Lyn Giesy
Producer: Maureen Barry
---
Chorus
Christine Barry, Patrick Barry, Ted Benedict, Beth Brideau, Kate Brideau, Neil Brideau, Leslie Cagle, Katie Dettman, Carrielyn Dolan, Benjamin Edwardsen, Joseph Edwardsen, Matthew Edwardsen, John A. Ejaife, Joshua Farnum, Julia Ferreira, Alexa Flaherty, Julaine Flick, Emily Gayeski, Nicholas Gayeski, Tom Gayeski, Evan Kastner, Alexander Kulli, Ann Kulli, Ian Levy, Rachel Levy, Elizabeth McCrank, Teresa Naylor, Erica Oette, Katie Perelli, Jessica Putorti, Gabe Rosenfeld, Beau Ryan, Amy Schrader, Caedra Scott-Flahert, Jamie Searl, Rebecca Searl, Johnnie Simmons, Jennifer Swift, Bob Weeks, Colin Weeks
---
Crew
Stage Manager

Production Crew

Lighting Designers

Program Design

ASL Interpreters