Spring 1979: H.M.S. Pinafore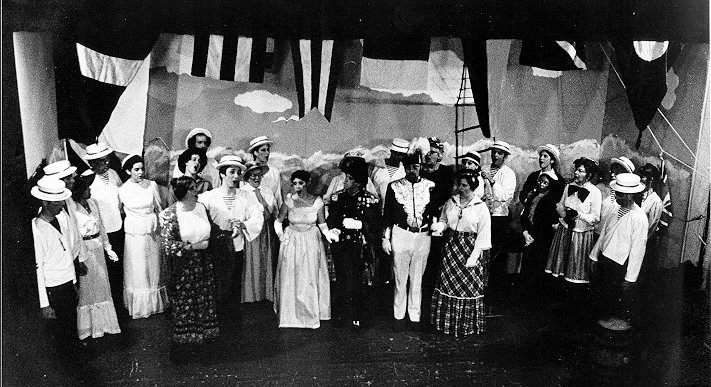 Synopsis
While the H.M.S Pinafore is anchored at Portsmouth, Little Buttercup, a bumboat woman, tries to sell her goods to the sailors. It is soon revealed that one of the sailors, Ralph Rackstraw, is hopelessly in love with the Captain's daughter, Josephine. She however, is betrothed to the wealthy Sir Joseph Porter. Nevertheless, Josephine expresses her love for Ralph and wants to elope-scandalous due to their class differences. Meanwhile, Buttercup has fallen in love with the Captain, but he cannot return her love because of their difference in status. In the end, it is revealed that the Captain and Ralph had accidentally been exchanged at birth. Thus, the Captain can now marry Buttercup and Ralph can marry Josephine.

Designer: Lt. Rex Vail, USN (Ret.)
---
Cast
Midshipman Tommy Tucker, RN

Bill Bobstay (Boatswain's Mate)

Bob Becket (Carpenter's Mate)

Little Buttercup

Dick Deadeye

Ralph Rackstraw

Captain Edward Corcoran, RN

Josephine

Hebe, Sir Joseph's Cousin

The Rt. Hon. Sir Joseph Porter, K. C. B.
Chorus
Cathy Anderson, Terry Benedict, Gerry Blair, Vivian Blair, Amy Helfman, Audrey Johnson, Norm Johnson, Malcolm Judd, Melody Lawrence, Gary Meicht, Lois Palmer, Suzanne Schroeder, Billie Smith, Susan Tennenbaum, Karen Thomas, Doris Wade, Dorothy Waterman
Orchestra
Flute

Keyboard

Soloist Preparation

Triangle
---
Crew
House Manager

Stage Managers

Production Crew

Stage Crew

Props

Set Designer

Costume Manager

Lighting Designer

Makeup