Spring 2019: The Gondoliers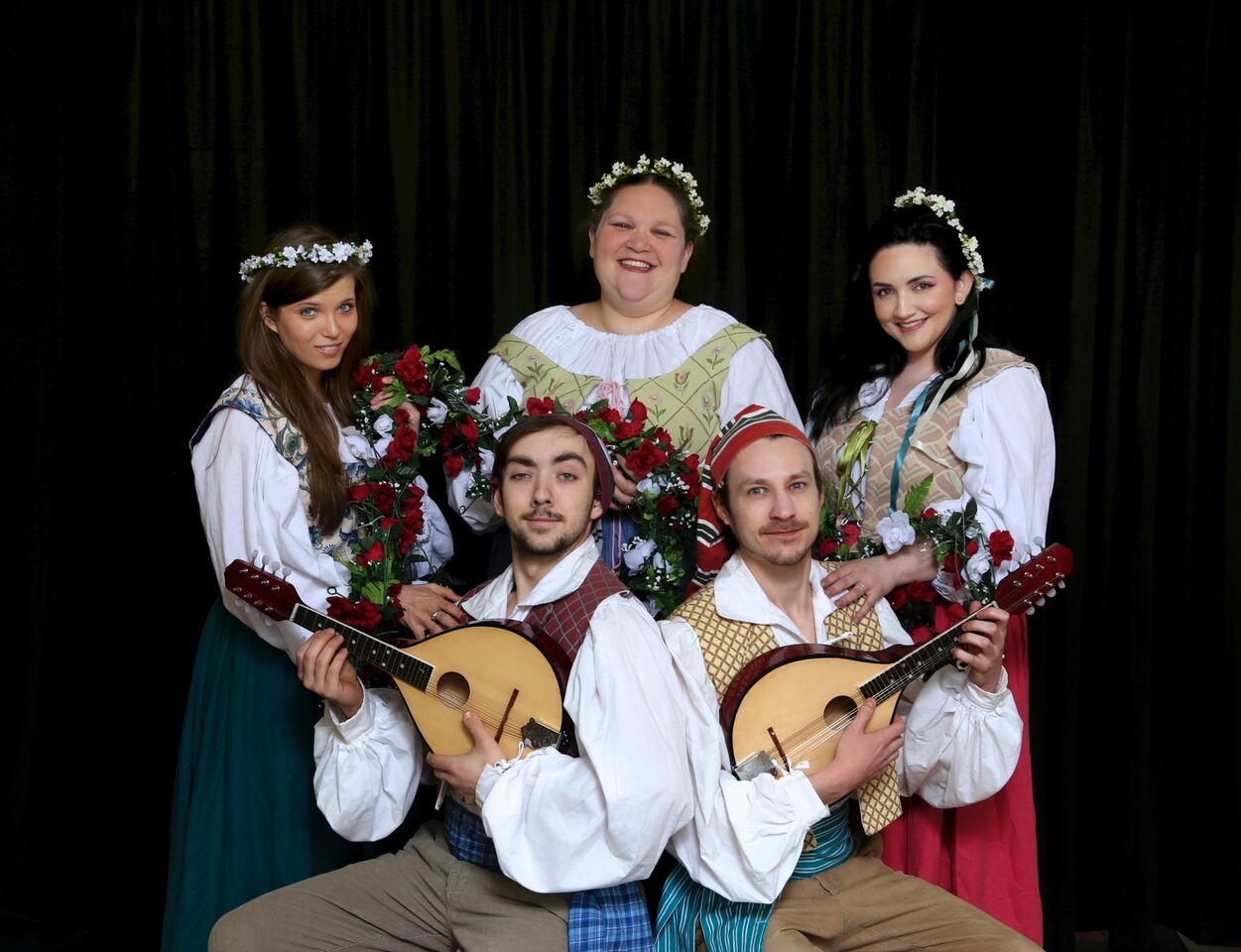 Performances
May 17, 2019, 7:30 p.m.
May 18, 2019, 2 p.m.
May 18, 2019, 7:30 p.m.
May 19, 2019, 2 p.m.
All performances held at The Robert F. Panara Theatre.
Synopsis
Two handsome gondoliers have just found wives. It turns out that one of them has inherited the throne to be the King of Barataria. Further, whoever is the king must marry the Duke's daughter, Casilda. Thus, both men decide to rule over Barataria together, even though they lack governing experience. Meanwhile, their wives each want to be queen and yet dislike the idea that a new woman has to join the equation. In the end, it turns out neither man is really the king and to their relief, they can go back to their normal lives.

Directors: Amanda Lobaugh, Charles Palella
Music Director: Marcia Sheremeta
Producers: Schuyler Kelley, Jordu Kelly-Sutliff, Amanda Lobaugh, Patti Anne Montrois, Rachel Pasternak
---
Cast
The Duke of Plaza Toro

Luiz

Don Alhambra del Bolero

Marco Palmieri

Giuseppe Palmieri

Antonio

Francesco

Giorgio

Casilda

The Duchess of Plaza Toro

Gianetta

Tessa

Fiametta

Vittoria

Inez
Chorus
Terry Benedict, Kyla Brady, Liz Burke, Bryan Cody, Kristin Dusett, Sarajane Fondiller, Audrone Gecas, Ellen Karnisky, Don Kelley, Tamara Kelley, Jordu Kelly-Sutliff, Rebecca Kingman, Larry Kiser, Amanda Kish, Patti Anne Montrois, Maureen Odgers, Pat Powers, David Raymond, David Schafer, Laurel Schneiderman, Martin Schneiderman, Ruth Tushingham, Bob Weeks, Clara Weinert, Devon Woodward, Velta Zadins
Orchestra
Bass

Bassoon

Clarinet

Flute

Horn

Keyboard

Oboe

Percussion

Piccolo

Trumpet
---
Crew
House Manager

Stage Manager

Props

Set Designer

Costume Managers

Dramaturge

Makeup

Bio Board