Winter 2004: A Gilbert & Sullivan Christmas Carol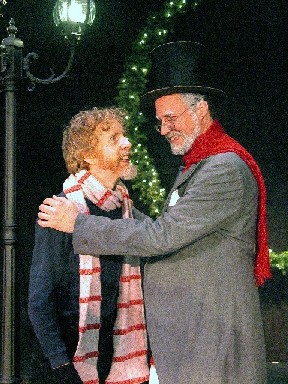 Synopsis
A Christmas Carol is one of the most resonant stories ever written in the English language, and its by-now-mythic tale of loss and redemption is to some degree affecting in every version ever done, from Mickey Mouse or the Muppets to the original book and, of course, in innumerable stage versions.
This play is no powerful psychodrama, but rather a light-hearted blending of two forms of Victorian storytelling which I love. Not a parody or a tongue-in-cheek knockoff, it's a festive holiday show with all the drama of the Dickens original and all the buoyant spirit of Gilbert & Sullivan — an excuse for a jolly old Christmas party in the best Victorian fashion.
After all, if there's one thing that Dickens stood for, and that Gilbert & Sullivan embodied, it's good, clean fun. Merry Christmas, everybody!"

Director: Jad Jordan
Music Director: Robert Blake
---
Cast
The Balladeer (A Wandering Minstrel)

Pooh-Bah (Lord High Everything Else)

Ebenezer Scrooge (A Greedy Banker)

Bob Cratchit (Scrooge's Clerk)

Tiny Tim Cratchit (Cratchit's Son)

Nephew Fred (Scrooge's Impoverished Nephew)

Mr. Kindheart (A Philanthropist)

Mr. Goodman (Another Philanthropist)

The Ghost of Marley (A Former Greedy Banker)

Ghost of Samuel (A Piratical Visitation)

Ghost of Christmas Past (A Spectral Visitation)

Ghost of Christmas Present (Another Spectral Visitation)

Ghost of Christmas Yet to Come (Ditto)

Old Fezziwig (A Memory)

Mrs. Fezziwig (Wife of A Memory)

Belle (Another Memory)

Young Scrooge (A Future Greedy Banker):

Titus Burton (A Future Ungreedy Banker)

Young Marley (A Future Former Greedy Banker)

Dora Lincoln (Fred's Fiancee)

Angelina (Dora's Friend)

Peter Cratchit (Cratchit's Eldest Son)

Aunt Esther (Emily's Brother's Wife)

Belinda Cratchit (Cratchit's Daughter)

Uncle Tim Hazlitt (Emily's Brother)

Emily Cratchit (Cratchit's Wife)

Grave Digger (a grave digger)

Jackie Cheapside (A Young Boy)

The Narrator (a Jolly Old Soul)
Chorus
Christina Arden, Julia Ferreira, Penny Fram, Nancy Galletto, Amanda Kish, Patti Anne Montrois, Helen Moore, Kathy Moore, Marty Nott, Kelsey Schmid, Karin Staples
---
Crew
Props

Set Construction

Costume Manager

Lighting Designer