Fall 2000: The Pirates of Penzance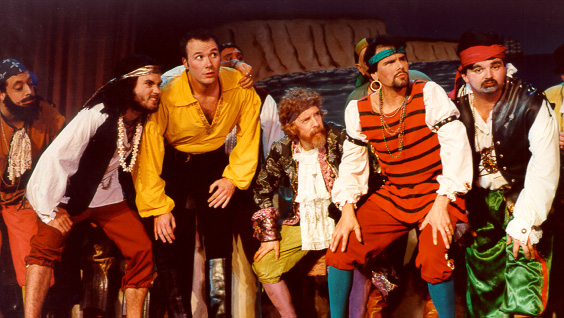 Notes
The Pirates of Penzance is the only Gilbert and Sullivan operetta to have premiered in the United States. It opened officially at the Fifth Avenue Theatre, in New York City, on New Year's Eve of 1879 with Arthur Sullivan conducting.
When Gilbert and Sullivan and the D'Oyly Carte company arrived in New York in November to rehearse Pirates, they discovered they had left all the first act sketches for the music at home. Therefore, Sullivan had to recompose the entire first act.
On the wall of No. 45, East 20th Street, New York, site of Sullivan's hotel, is a plaque which reads "On this site Sir Arthur Sullivan composed The Pirates of Penzance during 1879."
Rather than write a new number for the women's opening chorus, Sullivan substituted a tune he had written for Thespis. The score for Thespis was later lost. The tune of "Climbing Over Rocky Mountain" is the only original music that remains of that opera.
The Pirates of Penzance was originally entitled The Robbers and concerned the relations between a group of burglars and a group of policemen.
Other targets of satire in The Pirates of Penzance include the army, the House of Lords, and the police force.
In style, structure, and subject matter, Pirates is more of a satire of grand opera than any other G&S work. "Poor Wandering One" is a coloratura aria in Italian bel canto tradition. "With Cat-like Tread" is a reference to similar numbers in Offenbach's Madame L'Archiduke and Rossini's Barber of Seville. As in grand opera, the Pirates story is told almost entirely in song, and the characters suffer exquisitely over the conflict between duty and desire.
The last OMP production of The Pirates of Penzance was in 1994 and was our first show at the Salem United Church of Christ, our then new home.
Enjoy!

Director: Jean Gordon Ryon
Assistant Director: Kathy Moore
Music Director: Joel Hume
Producer: Amanda Lobaugh
---
Cast
The Pirate King

Samuel (the Pirate King's lieutenant)

Frederic (the Pirate Apprentice)

Major-General Stanley

Ruth (a pirate maid of all work)

Mabel

Edith

Kate

Isabel
Chorus
Christopher Adams, Terry Badger, Stuart Beck, Suzanne Bell, Chris Brown, Tracy Burdick, Lilah Crews-Pless, Penny Fram, Rebekah Fram, Sarah Fram, Nancy Galletto, Vesna Georgiev, Donald Green, Stephen Gullo, Isabele Henry, Joel Hume, Amanda Lobaugh, Dan Mark, Joyce Martelli, Jonathan Mobley, Kathy Moore, David Odgers, Jennifer Odgers, Maureen Odgers, David Schafer, Laurel Schneiderman, Sean Taylor, Byron Wilmot
Orchestra
Keyboard
---
Crew
House Manager

Production Crew

Props

Set Designer

Set Construction

Costume Managers

Lighting Designer