Off-Monroe Players Toaster Award
Awarded for outstanding service to OMP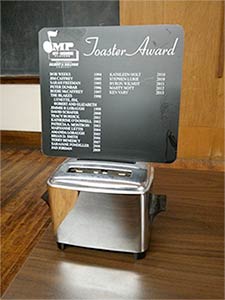 The Off-Monroe Players Toaster Award can trace its origins to the spring of 1986 and our final rehearsal for Yeomen of the Guard at our erstwhile digs, New Life Presbyterian Church on Rosedale St. This was not a dress rehearsal but a casual run-through, guided by our director, Brian Smith. We had reached the dramatic final scene: the wedding of Elsie (Anne Virgil) and Fairfax (Ron Herman), and the death of heartbroken Jack Point (Bill Hammond).
The mood that evening had grown increasingly lighthearted, so it was not at all inappropriate for Ron to enter bearing a toaster he had picked up in the church kitchen. This he handed to Bill, who, as he sang his agonized farewell ("Oh, thoughtless crew! Ye know not what ye do!"), graciously presented it to Anne. It was a sublime moment.
Since that memorable night it has become an OMP tradition for a toaster to make its appearance at some point in the final rehearsal for every production, as well as, inexplicably, a rubber chicken.
Soon after OMP started in 1977, we began presenting an annual award to some deserving person or persons for outstanding service to OMP. For several years this was the "Friend of OMP" award, then, briefly, the "Somebody please think of a better name for this award" award. Finally, in 1997, someone we have been unable to identify had the nifty idea of calling it the Toaster Award, and so it has remained.
Recipients
2022

2021

2020

2019

2018

2017

2016

2015

2014

2013

2012

2011

2010

2009

2008

2007

2006

2005

2004

2003

2002

2001

2000

1999

1998

1997

1996

1995

1994